About Alison Genest
Dracut native from a farming family


25+ years of private-sector experience in financial services



Leadership development professional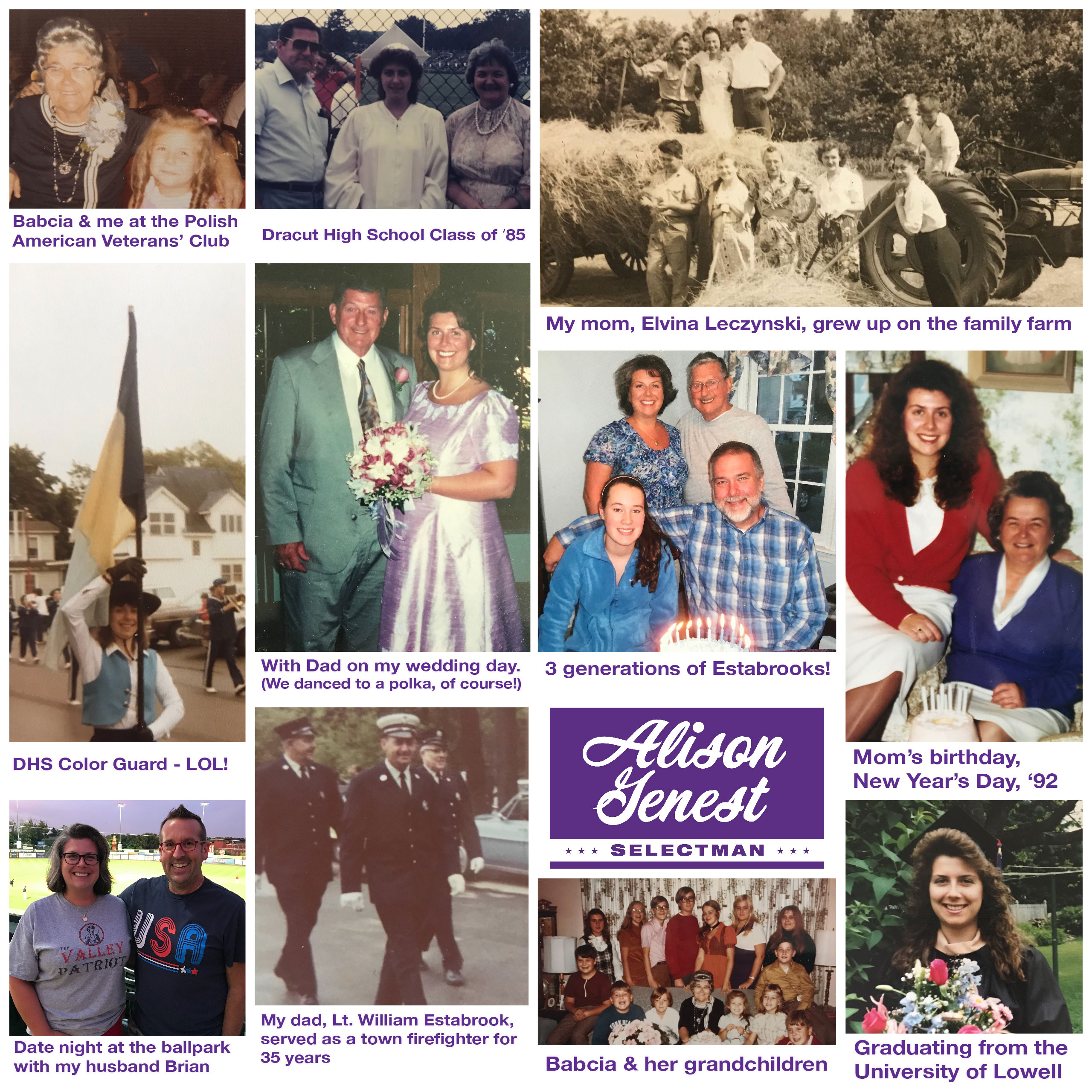 From the time I was a small child, my parents taught me the importance of hard work, honesty and giving back to our community.

I'm running for Selectman because I love Dracut.

Like so many of us, I was born and raised here and I care about our townspeople, our community and our future.

As a Dracut native, I have deep roots in town. My grandparents, Jan and Jadwiga Leczynski, emigrated from Poland in the early 1900s, establishing the family farm on Parker Road. My mother, Elvina Leczynski, a first-generation American who was raised on the farm with her six brothers and one sister, instilled in me a strong love for the land, for freedom and for our country. My dad, Bill Estabrook, Sr., served as a Dracut firefighter for more than 30 years.

My parents worked hard to raise my brother, Billy, and me. They taught us the value of a dollar and the importance of saving money. At 11, I got my first job delivering the Lowell Sun to my neighbors in Dracut Center. I worked throughout high school and college at Dracut Center Pharmacy and the Central Savings Bank.

I was educated in the Dracut school system. At Dracut High School, I was a member of the National Honor Society. As a freshman member of the girls' track team, I earned my varsity letter. I graduated from DHS in 1985 and received an academic scholarship from the Dracut Scholarship Foundation. I attended the University of Lowell, earning a bachelor of science degree in finance.

After college, I went to work at the Boston Company as a fund accountant. I worked my way up through the ranks, being promoted to senior accountant and then unit manager within three years. I was subsequently offered a training position in the human resources department and I've been working as a leadership and professional development consultant ever since. For the last 13 years, I worked at MFS Investment Management in Boston.
This is an exciting time for Dracut, as we move forward under the leadership of a new town manager. With nearly 30 years of private-sector business experience in financial services, I bring budgeting, management and oversight experience that I'll put to use to benefit our town.
While we look to the future, I think it's also important to continue honoring Dracut's past, including our strong agricultural heritage. Coming from a farming family, I have a deep respect for nature and I take our stewardship of the land very seriously. I care about preservation, conservation and making sure things are done the right way.
As your Selectman, you can count on me to think for myself, to ask the important questions and to do the right thing for Dracut.
But I need your help and your support.
Together, let's make Dracut stronger and more successful than ever.
I respectfully ask for your vote on June 29.
Thank you.